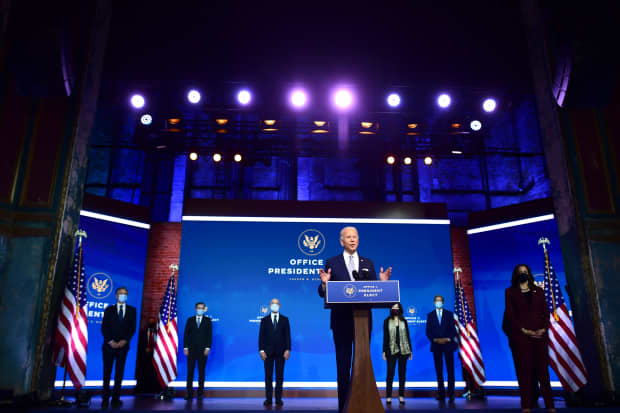 President-elect Joe Biden on Tuesday talked up working with other countries, as he formally rolled out his picks for national-security and foreign-policy positions.
"This team behind me — they embody my core belief that America is strongest when it works with its allies," Biden said at an event in Wilmington, Del.
"America is back," the president-elect later added in a tweet.
The nominations were already known, consisting of Antony Blinken for secretary of state, Alejandro Mayorkas for secretary of homeland security, Avril Haines for director of national intelligence, John Kerry for climate-change envoy, Jake Sullivan for national-security adviser, and Linda Thomas-Greenfield for ambassador to the United Nations.
Read more: Biden names Blinken secretary of state, Kerry as climate envoy
And see: Fossil-fuel apologist or sensible statesman? Responses to Biden's pick of Kerry for climate envoy
Biden has not yet officially introduced former Federal Reserve Chairwoman Janet Yellen as his choice for Treasury secretary, but multiple news outlets reported Monday that he plans to nominate her.
See: Yellen, pushed aside by Trump, returns to center stage of economic policy
Also: 'A win for the establishment' — analysts react to Yellen as Biden's Treasury secretary
The Trump administration late Monday offered its first acknowledgement of Biden's victory in this month's presidential election, as the General Services Administration's director, Emily Murphy, informed Biden that she was ready to begin the transition process.
President Donald Trump also made remarks on Tuesday, as he hailed the Dow Jones Industrial Average
DJIA,
+1.48%
 topping 30,000 for the first time. In addition, Trump pardoned the National Thanksgiving Turkey.