The market has been thrilled amid signs of progress in the EU-UK deal. Last week, EU Commission president Ursula von der Leyen noted that there was "more movement" on the negotiations "difficult weeks with very, very slow progress". Yet, she warned that there were "some metres to the finish line" to reach agreement. The major barriers of a deal hinge on three main issues, namely fishing rights, level playing field and governance.
Brexit Timeline
Nov. 23-26: European Parliament Meeting
Dec. 10-11: EU summit. UK should prepare for no deal Brexit is there's no deal signed
Dec. 14-17 Last European Parliament meeting for the year
Dec. 31: End of Brexit transition period.
Fishing Rights
The latest fishery statistics shows that the output of the fishing and aquaculture sector (comprising marine fishing, freshwater fishing and fish farming) amounted to 747M pound in 2019. The sector accounted for 5.5% of the UK's gross value added
(GVA) from the broader agricultural, forestry and fishing sector, and merely 0.04% of the UK's total GVA across all sectors. However, the fishery sector remains highly politically sensitive. As an island-nation, the fishery industry is highly symbolic while fishermen are closely associated with English identity. Meanwhile, English fishermen were amongst the most vocal in the Brexit camp back then.
As the transition period ends on December 31, 2020, the UK remained bounded by the Common Fisheries Policy (CFP). This suggests that fishing fleets of every country involved have full access to each other's waters, according to the national quotas assigned in 1970. Contention in the UK hinges on the fact that over 60% of the tonnage landed from British waters is caught by foreign boats. The UK government wants UK fishing vessels to have priority rights to UK waters, compared with equal rights to EU/UK waters by all member states as suggested by CFP. It was proposed that non-UK vessels are still permitted to access to UK fishing waters, but subject to annual negotiations. EU countries that would be most affected by this would be France, the Netherlands and Denmark, although a few thousand people working in fisheries in these countries.
There are signs that the EU would agreed to reduce its access to UK waters, in exchange for an extended transition period whereby these quota changes are gradually phased in.
Level Playing Field
The EU insists that the UK to guarantee that it will not use domestic subsidy to gain a competitive advantage. The UK denounced this as unprecedented request for a trade deal and an infringement of its independence. As von der Leyen noted last week, there has been progress on the state aid rules limiting government subsidies for industry. It appeared that the UK could accept the conditions on the principles of domestic subsidies, setting up an independent domestic regulator and establishing a robust dispute resolution mechanism. Other than the state aid rules, EU's proposed ratchet clauses on environmental and labour protection were resisted by the UK. On the contrary, the UK proposed "non-regression" clauses that codify promises not to lower environmental or social standards from current levels. No conclusion has been made on the issue.
Governance
Progress has been made over the past two weeks on the dispute mechanism. It's reported that the EU would lower its demands for "cross retaliation", accepting that police and judicial cooperation should be exempt from the cross-retaliatory tools in any post-Brexit trade and security deal. Meanwhile, the UK appears less resistant against EU plans for an extensive dispute settlement clause that would allow for 'cross suspension' across the Brexit deal, for example, a row over fisheries could see tariffs slapped on cars if arbitration fails. Yet, there is a long way to go for a final agreement to be reached.
What does a no-deal Brexit mean?
If both sides fail to reach a deal by the end of the transition period (December 31, 2020), the UK will have to leave the EU without a trade deal. This suggests that the trade relations will be subject to rules under the WTO. While the actual economic impacts remain uncertain, many UK/European media have been depicting a disastrous picture as tariffs would be applied to most goods shipped from the UK to the EU.
We do not expect a no-deal Brexit. However, in the unlikely event that this scenario comes true, it may not be as disastrous as what has been described. The UK has been negotiating free trade agreements (FTAs) with different countries. The latest news is that the UK and Canada have agreed to maintain trading under EU terms. So far, more than 20 of these existing deals, covering 50 countries or territories, have been rolled over and will start on January 1 2021. This represents about 8% of total UK trade, based on 2018 figures. We believe there are more to come.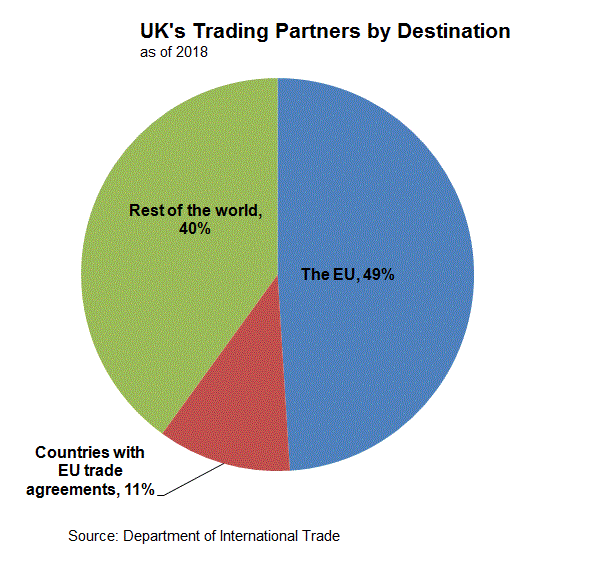 Trade Agreements Signed
| | |
| --- | --- |
| Country or bloc | Total UK trade with countries, 2019 (£ million) (1) |
| Andean countries (2) | 2,904 |
| Canada (Agreement in principle) | 22,373 |
| CARIFORUM trade bloc | 3,243 |
| Central America | 1,441 |
| Chile | 2,148 |
| Côte d'Ivoire | 401 |
| Eastern and Southern Africa (ESA) trade bloc | 1,626 |
| Faroe Islands | 295 |
| Georgia | 178 |
| Iceland and Norway (3) | 26,834 |
| Israel | 5,125 |
| Jordan | 534 |
| Kenya (Agreement in principle) (4) | 1,439 |
| Kosovo | 9 |
| Lebanon | 820 |
| Liechtenstein | 122 |
| Morocco | 2,472 |
| Pacific states | 178 |
| Palestinian Authority | 11 |
| South Korea | 11,659 |
| Southern Africa Customs Union and Mozambique (SACUM) trade bloc | 12,121 |
| Switzerland | 38,579 |
| Tunisia | 611 |
| Ukraine | 1,533 |
Source: https://www.gov.uk/guidance/uk-trade-agreements-with-non-eu-countries