This article was written exclusively for Investing.com
Cryptocurrencies were starting to look stable over the past couple of weeks, suggesting the worst of the sell-off that started in the second week of May was behind us. But another tweet or two from Elon Musk and prices have started to break lower again, putting the recovery hopes in doubt again.
At last check, was more than 6% worse off on the session and had trimmed its weekly gains to just over 2.5%. Similar price action was evidenced in other cryptos. 
It is not the most ideal scenario for crypto bulls heading into the weekend, after prices had shown tentative bullish signs in the last few days. Musk's latest cryptic tweet suggests Tesla (NASDAQ:) might ditch Bitcoin for good. But there's still hope for some major announcements from other big players at the Bitcoin 2021 event in Miami. 
Meanwhile, the latest selloff has also caused a bit of technical damage to the charts of the major coins, all showing failure to break out from their respective consolidation zones—at least in the first attempt. 
Let's take a closer look at Bitcoin and .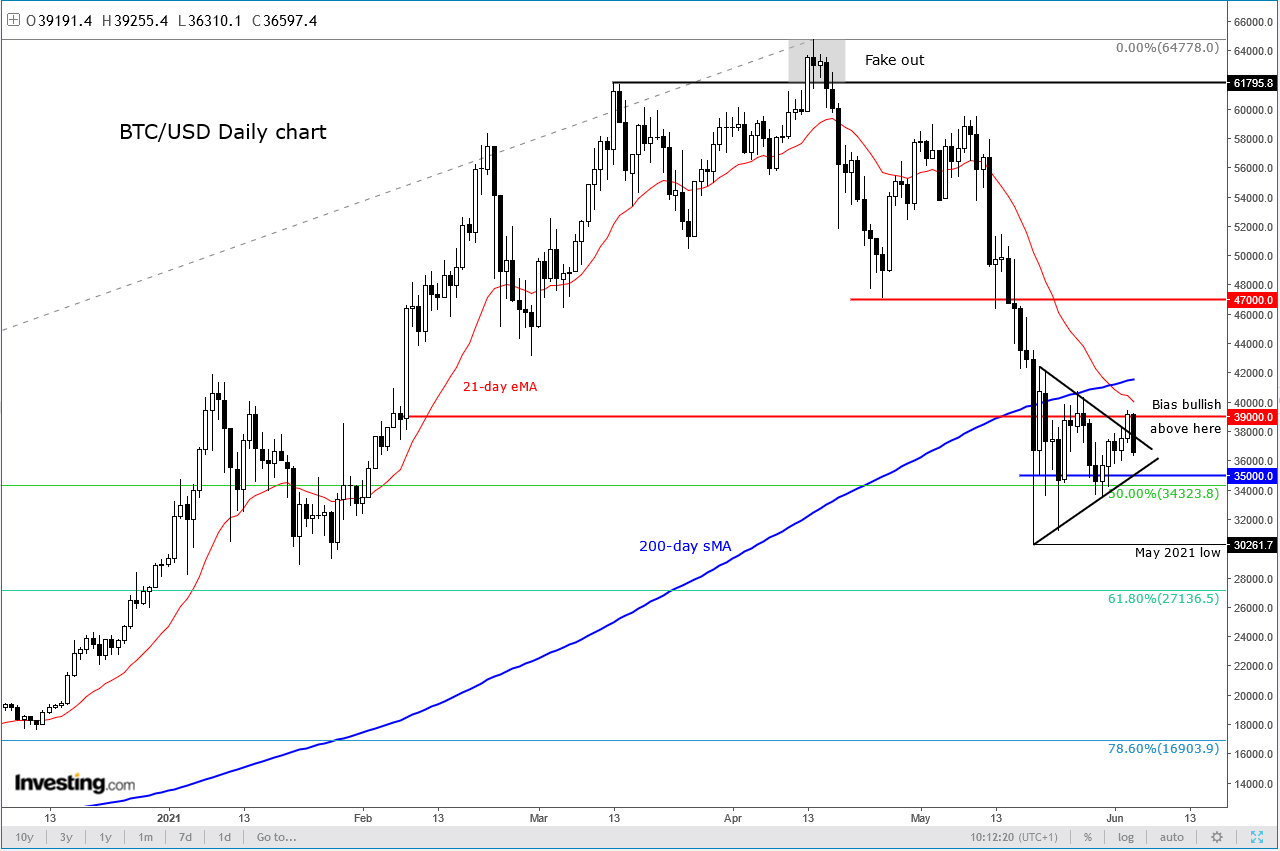 Bitcoin was beginning to look constructive but today's failed breakout attempt from the consolidation zone means the chop will continue for a while yet. We need to see BTC climb above $39K resistance to tip the balance back in the bulls' favour. Unless that happens, I would caution against being too aggressive on any new long trade signals that may show up on the lower timeframes in the interim. That is because if the disappointed bulls, who may have been accumulating long positions over the past couple of weeks, are forced to exit their trades, we could well see a quick drop below the May low at $30,260, before Bitcoin attempts another recovery attempt. So, there is always that risk, which underscores the need to see a fresh bullish signal on the daily time frame for the buyers.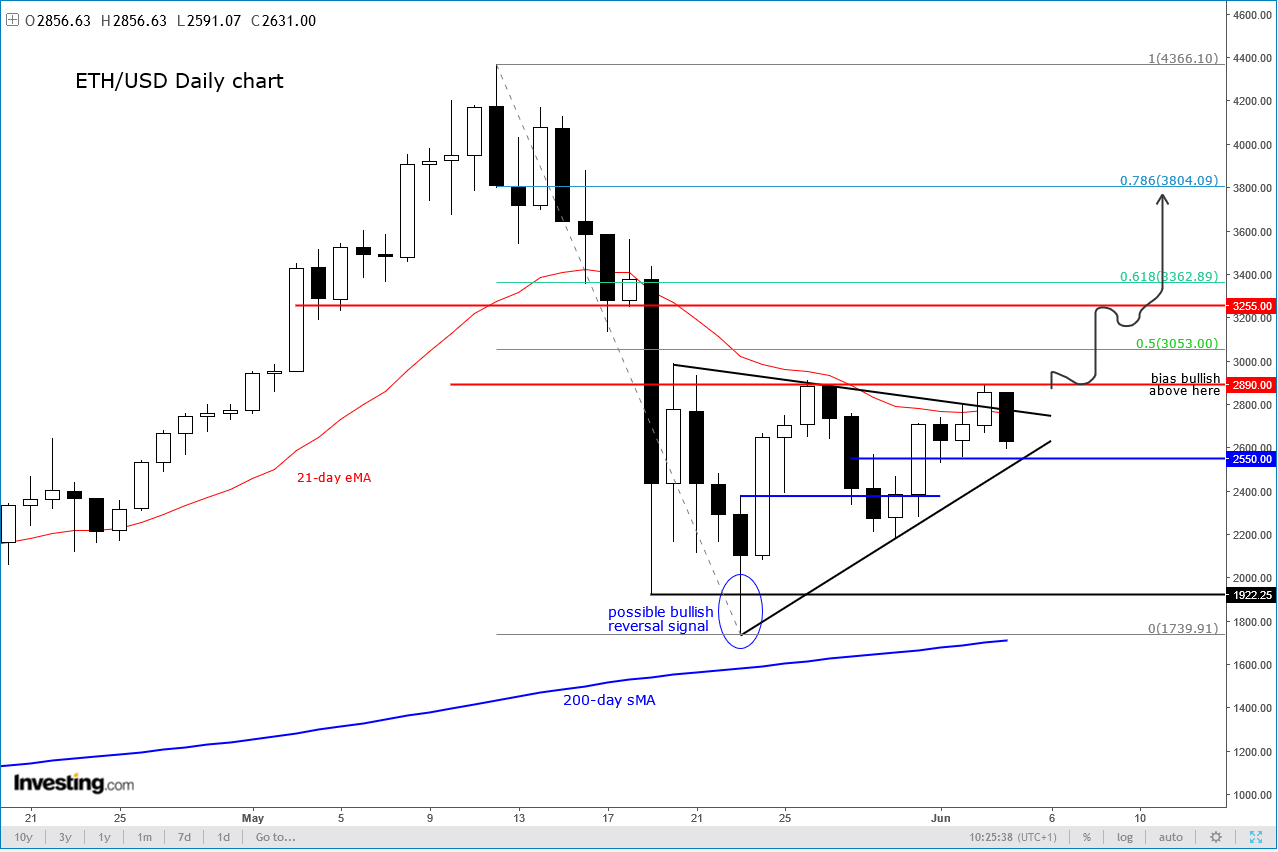 Like Bitcoin, ETH/USD also failed to sustain its breakout above the resistance trend of the triangle pattern. It will need to go back above the trend line to tip the balance back in the bulls' favour. Unlike Bitcoin, Ether has however created a possible bullish reversal signal on May 23, when it formed a false break beneath its May 19 low of $1,922. Since that signal was created, all interim dips back to former resistance levels inside the consolidation chop zone have been supported. 
So, out of the two coins, ETH/USD looks the more favourable to me from a bullish point of view. But like Bitcoin, I would like to see it go above the failed breakout area again to provide the trigger for a bullish trade. Specifically, $2,890 is the level to watch—break this and we could see a quick rally towards the next potential resistance zone in the $3,255 area initially, potentially ahead of more gains. But first thing is first, let's wait for ETH to break out of its chop zone.   
Gold vs. Bitcoin
Bitcoin's recent volatility has coincided with rising. There was speculation that crypto investors used their profits to buy gold. Although some undoubtedly did just that, it is difficult to say whether this was the reason why gold prices rose. Bitcoin and gold are two different animals, and I don't think we should treat them as if they are somehow related to one another. Bitcoin and gold don't have a consistent relationship like, for example, gold and yields do. There have been times where gold and Bitcoin both rose and fell in tandem, while for extended periods they went their separate ways. I expect this inconsistent relationship to remain true in the long-term as I don't think gold can ever be Bitcoin, or Bitcoin can ever replace gold. They are just two different asset classes.
Bitcoin is not a 'store of value' yet
For now, Bitcoin and other cryptos remain a highly speculative asset class to be considered a "store of value." The notorious corrections need to be addressed for a start, but I am sure there are some investors that like the fact they tend to drop big every now and again. The drops provide new opportunities to buy at a discount and the rallies offer them the opportunity to sell at a premium. This actually makes Bitcoin more of a speculative asset class than many other assets. But Bitcoin investors know this, and who are we to tell them investing in Bitcoin is not right for them?