On Wednesday, Elon Musk, founder and CEO of Tesla (NASDAQ:), posted on Twitter that the manufacturer would no longer accept as a method of payment for its luxury electric vehicles. Musk cited concerns about the "rapidly increasing use of fossil fuel for Bitcoin mining and transactions." However, Tesla will not be selling its Bitcoin holdings.
After Musk's tweet the token took a dive. The cryptocurrency famously surged 22% on Feb. 8 after Tesla disclosed that it had purchased $1.5 billion in Bitcoin and was planning to accept the cryptocurrency as a means of payment. The decision was viewed as adding legitimacy to the digital asset's claim as a source of monetary value. Since then, the token jumped by up to 65%—till it peaked on Apr. 14.
We recently on the token, but Musk's about-face on the cryptocurrency has added to our conviction.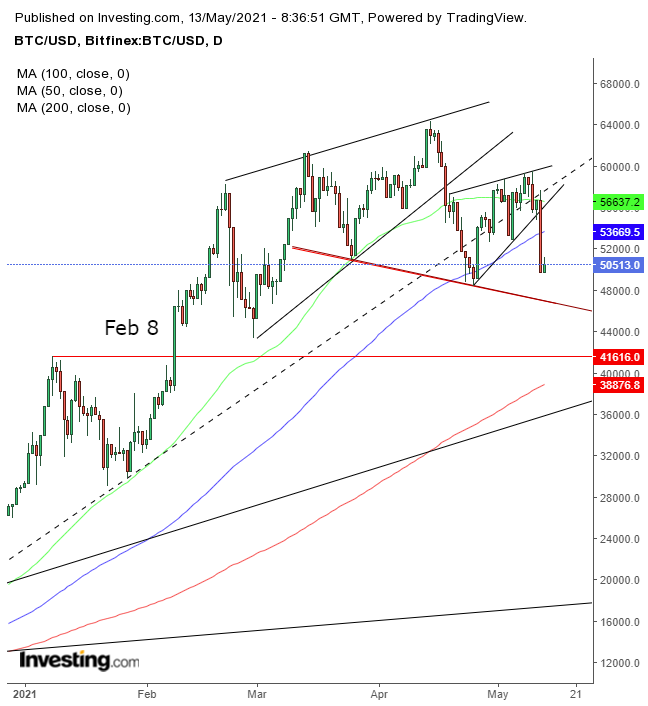 Bitcoin Daily
Bitcoin completed a rising wedge in mid-April. Since then, the price began developing a H&S top. Wednesday's plunge completed a second consecutive, if smaller, wedge, increasing the odds of the completion of the right shoulder with a downside breakout of a H&S top.
Then, it completed one bearish wedge, and yesterday another, as it nears the completion of a H&S top.
The implied target of the first, larger wedge is $46,700. The second, smaller but lower wedge points to a breakout toward $43,000. If that happens the price will likely complete the H&S, setting its trajectory even lower, adding an additional $13,500 leg down from the point of the neckline breakout, aiming at the low $30,000s.
Notice how the pressure points on the chart come together. The 50DMA supported the first wedge; the 100DMA realigned with the second wedge, and the 200DMA just crossed the uptrend line since October and is looking like it will add reinforcement to the neckline.
The RSI has been signaling a negative divergence since February, when momentum fell against the rising price.
Trading Strategies – Short Position Setup
Conservative traders should wait for the completion of the H&S.
Moderate traders would short upon a return move to the second wedge.
Aggressive traders could short at will, having accepted the higher odds of losing, in proportion to the higher reward of moving before the rest of the market. Trade only according to a sound plan.
Here's an example:
Trade Sample
Entry: $55,000
Stop-Loss: $60,000
Risk: $5,000
Target: $40,000
Reward: $15,000
Risk:Reward Ratio: 1:3