Coinbase Global (NASDAQ:) is a great investment if you believe in a marketplace ruled by digital currencies. Co-founded by Brian Armstrong in 2012, it's the largest cryptocurrency exchange in the US and the first major cryptocurrency-focused company to go public.
The exchange will be used to set the market to trade digital currencies. This could shape a future in which financial intermediaries are diminished and transactions take place predominantly on the blockchain.
This month the total value of the cryptocurrency market passed $2 trillion, as both retail and institutional investors flocked to buy this asset class. , the original and biggest crypto coin, is valued at more than $1 trillion after a more than 800% surge in the past year.
Riding on this investment wave, Coinbase profitability soared. The San-Francisco-based exchange said it expected its first-quarter earnings to be between $730 million and $800 million—more than double what it earned in all of 2020—on revenue of $1.8 billion.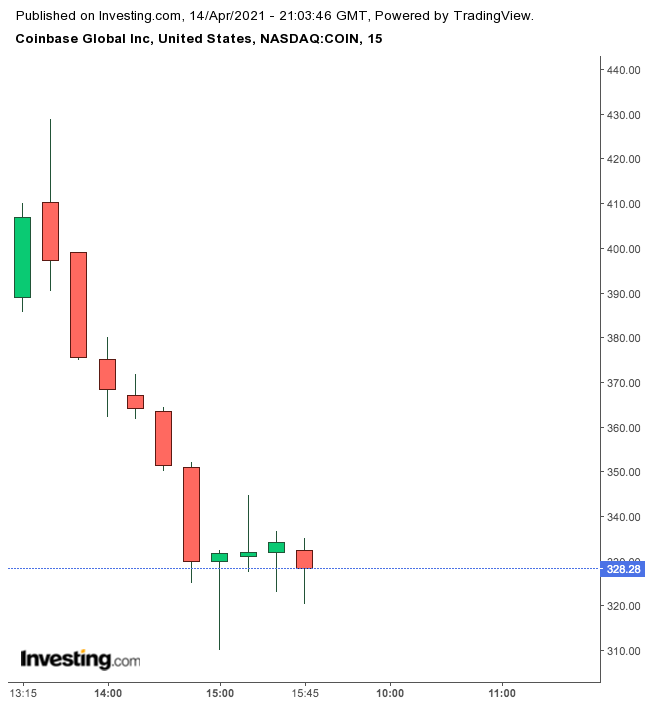 Trading volume totalled $335 billion in Q1, and the company now has 56 million verified users on its platform. Assets on the platform rose to $223 billion, with institutional users representing 11.3% of the total crypto market share.
Profitable From Day One
This impressive financial profile ranks Coinbase among the few technology companies that were profitable from their first day of trading. And the future looks promising, too. If its value surpasses $100 billion, as it is widely expected, it will be among the 100 largest companies in the US and the world by market value.
That size almost guarantees it a spot in most broad market index funds. The fact that Coinbase is already profitable also makes it eligible for the Index, the most widely followed index by large institutional investors.
If Coinbase maintains the pace of first-quarter revenue and earnings, according to Bloomberg writer Nir Kaissar, it will have increased revenue five times and earnings 10 times this year compared with 2020. And that may be just the beginning because interest in cryptocurrencies is widely expected to grow, he says.
Extreme Volatility
This optimism is well justified and makes the Coinbase a very attractive stock to own. That said, investors shouldn't downplay the risks associated with investing in cryptocurrencies.
The biggest one is extreme volatility. Coinbase revenue is built almost entirely on the performance of Bitcoin and , which are prone to sudden boom-and-bust cycles. Bitcoin has already experienced two crashes of more than 80% in its short history. Another such crash will mean reduced profitability for Coinbase, which generates most of its revenue from trading fees.
For these reasons, Coinbase didn't outline any specific earnings or revenue guidance for the remainder of the year in its listing prospectus, saying that the cryptocurrency market has had well-defined price cycles that can last anywhere from two to four years, and because of that, its goals are drawn to last across those periods rather than for a single quarter.
Another risk is competition, which some analysts say is bound to come driving the trading fees lower. New Constructs wrote in a report last week that competition from companies like Kraken, Gemini and Binance will eat into Coinbase's fee revenue. If that happens, according to its analysis, Coinbase should be valued at $18.9 billion, or 81% below its expected market cap.
"As the cryptocurrency market matures and more firms inevitably pursue Coinbase's high margins, the firm's competitive position will inevitably deteriorate," New Constructs wrote in a note cited by CNBC.com. Competitors "will likely offer lower or zero trading fees as a strategy to take market share."
Global regulation is another area that could impact the business model of Coinbase and affect its share price. At her confirmation hearing in January, Treasury Secretary Janet Yellen told law-makers that many cryptocurrencies are used "mainly for illicit financing, and I think we really need to examine ways in which we can curtail their use."
Her written testimony, however, says the government needs to "look closely at how to encourage their use for legitimate activities," but it's very possible governments around the world will come up with new laws to regulate cryptocurrencies.
Bottom Line
Coinbase has a solid appeal for investors who want to have some exposure to cryptocurrency in their portfolio. But investors should be ready for a bumpy ride, given the volatile nature of this market.