Ryan Taylor, CEO of Core Group, the main development group behind the Dash (DASH-USD) decentralized cryptocurrency, believes cryptocurrencies are facing a "usability crisis" as the technology inches closer to mass adoption. Taylor believes that the complexity involved in using cryptocurrencies may lead to many users suffering bad experiences, including even loss of funds. Dash aims to address this head-on with the release of the new DashPay social payments wallet, now in public alpha, which features usernames, contact lists, and other intuitive elements to an easy-to-use payments experience.
Speaking about the current problems users face when paying with cryptocurrency, Taylor said:
"I believe that the cryptocurrency industry is headed towards a usability crisis of sorts. There is record interest in buying cryptocurrencies like as a store of value, but when consumers go to withdraw their Bitcoin off of an exchange, they're faced with trying to correctly type in or copy and paste an unruly long cryptographic hash that just isn't readable to the average person."
Taylor also noted that although addresses contain checksums to prevent errors, users typically don't understand that, which causes real fear and anxiety. And now with SegWit and the Lightning Network, there are several different address formats, making it even more confusing.
"That isn't an experience that the general public will be used to, and could lead to some people trying cryptocurrency and walking away with the impression that the products are immature, or relying on custodial platforms like we do with banks today. One of cryptocurrency's greatest attributes – being a free, unseizable, and open financial solution – is lost with custodial services," as further explained by Taylor.
As stated in a survey by market research company Clutch and Brave, more than 90% of respondents who stay more than 4 hours per day online, consider ease of use as an essential factor when choosing to continue to use a website or service. An online poll conducted by Dash in November 2020, revealed that for 70% of users usability is the biggest barrier to adoption.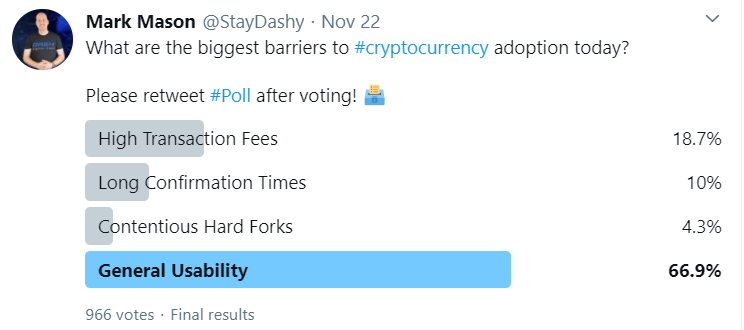 Picture source: Twitter, @StayDashy
The Foundation for Interwallet Operability conducted a survey in 2018, which revealed that a large number of users of cryptocurrencies were not fully certain that their transactions would be successful. Around 25% of those surveyed were certain that their transactions would be successful upon actuation. Another 17% experienced heightened levels of anxiety and stress in the course of transaction processing. The survey had also uncovered that 30% of users had sent digital currencies to other users for the purpose of making purchases within a period of a month. At the same time, 27% of users did not send any cryptocurrencies throughout a period of one year.
The Dash cryptocurrency is determined to increase levels of adoption by removing the aforementioned difficulties associated with cryptocurrency operations. Dash intends to address the issue by offering its users a smooth user experience that would include contact lists, avatar images, user names and other functions that would be extended to the cryptocurrency ecosystem at large. Mark Mason, Public Relations Manager for Dash, noted:
"In order for cryptocurrency adoption to go mainstream, we need to say bye to long scary cryptographic addresses, and say hello to usernames, profile pics and contact lists. Providing a pleasant user experience is the key requirement to achieve mass adoption. Dash is ready to go mainstream by making blockchain payments easy with decentralized usernames."
DashPay is expected to be the first decentralized application to be launched on Dash Platform supporting transactions via usernames. It allows users to conduct social payments among themselves with user name searches across networks along with profile images, extended personal bio descriptions and payment histories. The functions are offered in a decentralized format without third-party involvement to ensure user privacy and data confidentiality. The application is slated for public release on the Dash mainnet in the first half of 2021.