Two of the tech industry's top leaders will discuss cryptocurrency next month according to a Twitter conversation that took place on Thursday.
Key Takeaways
Jack Dorsey, CEO of Twitter and Square, has announced a conference called the "The B Word."
Elon Musk, CEO of Tesla (NASDAQ:), has agreed to discuss Bitcoin with Dorsey when the event takes place next month.
The conference will take place on July 21, 2021.
Dorsey Announces "The B Word"
In a Twitter thread, Jack Dorsey, CEO of Twitter (NYSE:) and Square (NYSE:), announced a Bitcoin conference called "The B Word."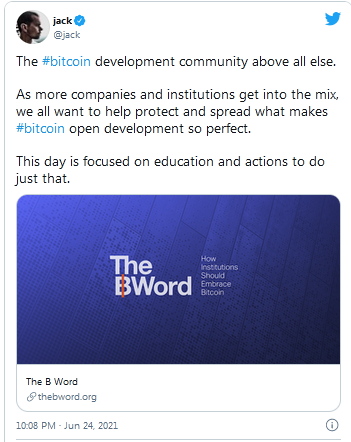 Jack Dorsey Tweet
In response to the name of the conference, Tesla CEO Elon Musk replied: "Bicurious?…or right…Bitcoin haha."
Dorsey replied: "Bizarre! Let's you and I have a conversation at the event. You can share all your curiosities."
Musk then wrote. "For the Bitcurious? Very well then, let's do it," Dorsey concluded the conversation with: "Done! Will set up."
According to the conference's website, the event will take place on July 21. In addition to Dorsey, it will feature Cathie Wood of ARK Invest, Adam Back of Blockstream, and John Newbery of Brink.
As of time of writing, Musk hadn't been officially added to the event's list of speakers yet.
Where Does Each Leader Stand on Bitcoin?
Both Musk and Dorsey have promoted Bitcoin adoption in the past. Additionally, each has stressed that Bitcoin needs to scale up, either in terms of transaction throughput or energy usage.
Dorsey has historically expressed interest in the Lightning Network, a second-layer settlement system that handles transactions alongside Bitcoin's main network. Square Crypto has invested in Lightning and several other tools in the Bitcoin ecosystem.
Meanwhile, Musk is concerned about Bitcoin's energy consumption. Recently, he announced that Tesla would until the cryptocurrency mining industry turns to sustainable energy. Square is encouraging greener Bitcoin mining as well, but the issue seems to be a much greater concern for Tesla.
Finally, both tech leaders share one important quality: they have invested heavily in cryptocurrency through their companies. Dorsey's Square holds $259 million worth of Bitcoin (8,027 BTC), while Musk's Tesla holds $1.4 billion in Bitcoin (42,092 BTC).
Those similarities and differences will undoubtedly give Dorsey and Musk plenty to discuss at the conference.