Crowdfunding for the feature-length documentary : The Infinite Garden has ended, raising just under 1,036 ETH over two days. The amount raised has surpassed the 750 ETH target set on July 14.
The First Feature-Length Ethereum Documentary
Ethereum is set to hit the big screen in a feature-length documentary.
The documentary, titled "Ethereum: The Infinite Garden," sought to raise 750 ETH (around $1.4 million) to fund the project, with 5% of the proceeds going to carbon offsets and Gitcoin Grants to support open-source Ethereum projects.
Only two days after its launch on July 14, the project surpassed the 750 ETH target, with funding closing at 1,035.96 ETH (worth roughly $1.94 million) raised from 662 backers.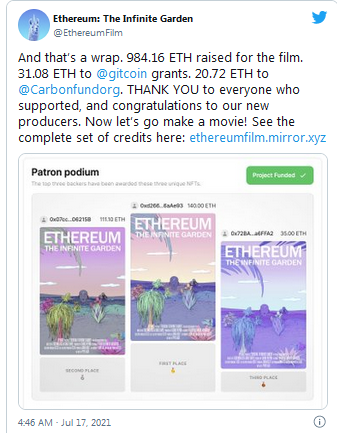 Tweet
"Ethereum: The Infinite Garden" will be the first feature-length documentary covering the decentralized blockchain, with the project describing itself as:
"A feature-length documentary film that explores the innovative real-world applications of the Ethereum blockchain, the die-hard community of enthusiasts and developers, and its creator, Vitalik Buterin, whose vision for the Internet has the potential to change the world."
The project has already established an exclusive filming relationship with Vitalik Buterin and Ethereum Foundation Executive Director Aya Miyaguchi. The project's official Twitter account revealed that filming with the pair had already started a day before the crowdfunding went live.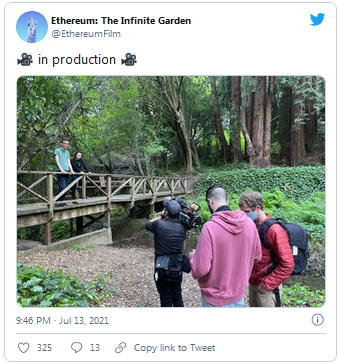 Tweet
Several high-profile figures from Hollywood are also involved. The movie will be directed by Chris Temple and Zach Ingrasci of Optimist Studios. The studio previously directed the 2020 documentary "Five Years North" to much critical acclaim.
Additionally, pplpleasr, a digital artist whose work has been featured in "Wonder Woman," "Star Trek Beyond," and several DeFi campaigns for the likes of and , has designed a series of promotional poster NFTs for the documentary.
Casting and development are still ongoing, though the documentary is due for release sometime in late 2023.