hit a new all-time high following an exchange listing announcement.
Key Takeaways
Gemini revealed that it was listing Dogecoin for trading, and that the coin would be available beginning May 4,
The announcement saw a significant number of investors rush to exchanges to buy some Dogecoin.
DOGE's price has risen by more than 46% in the last few hours, at the time of writing.
has joined the Dogecoin mania. The New York-based cryptocurrency exchange revealed that it will add support for DOGE, sending the coin's price to a new all-time high.
Dogecoin Skyrockets On Gemini Listing
In a blog post, Gemini announced that starting yesterday, May 4, users would be able to deposit Dogecoin into their accounts.
Trading against the was to begin on the platform's API and active trader applications. Following a successful rollout, Gemini will open Dogecoin trading on mobile and web applications.
DOGE will also be tradeable against several other fiat currency trading pairs, including the British Pound, Euro, Canadian Dollar, Australian Dollar, Hong Kong Dollar, and Singapore Dollar.
Gemini justified its decision to list Dogecoin in light of its rapid rise and the possibility that it could lose value just as quickly.
"Yes, [Dogecoin] a meme coin, but all money is a meme. And all money is both an idea and a matter of faith or belief in it. Over the multi-millennia history of money, the majority of money (be it shells, beads, precious metals, etc.) has been what we the people say it is and believe it is," Gemini explained.
Dogecoin will be listed alongside over 40 other cryptocurrencies that Gemini currently supports on its trading platform.
FOMO Kicks In
FOMO struck the market following Gemini's announcement. Dogecoin's market value has surged by more than 46% yesterday, rising from $0.42 to a new high above $0.61.
Despite the impressive price action that Dogecoin experienced yesterday, technicals spell trouble.
The Tom DeMark (TD) Sequential indicator was presenting sell signals in the form of green nine candlesticks on both the daily and 12-hour charts. The bearish formations forecasted a one to four candlestick correction before the continuation of the uptrend.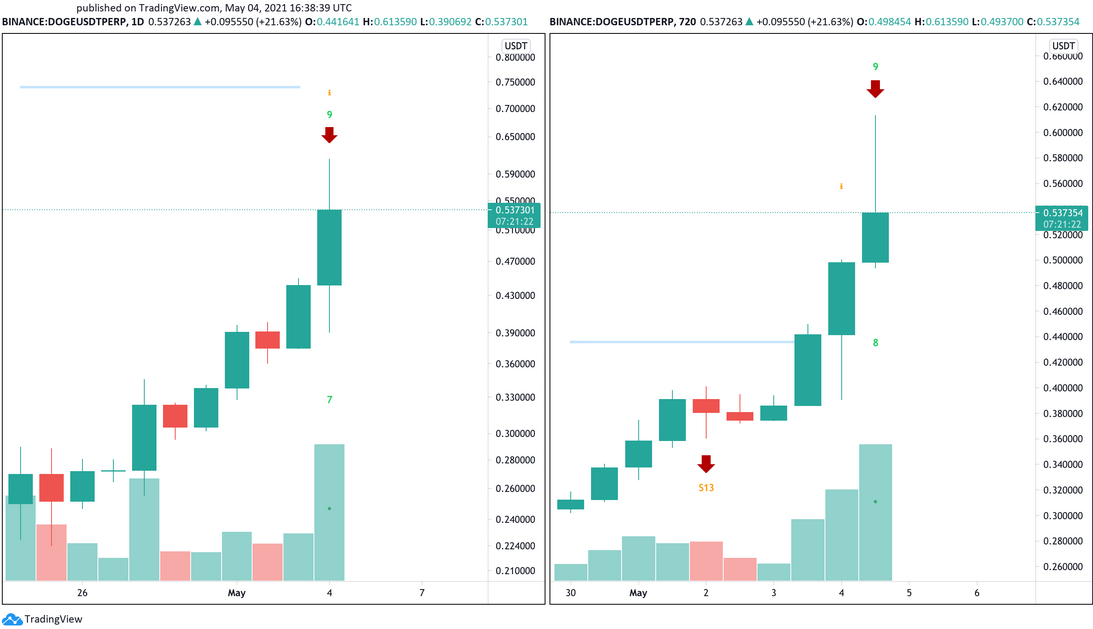 With this in mind, market participants should implement a robust risk management strategy when trading DOGE.
Even though this altcoin may have more room to rise, insiders who bought in earlier are likely to take profits.
The technicals strongly suggest this outcome.