This article was written exclusively for Investing.com
Looking for diamonds in the rough in digital currencies
Stick with the billion-dollar market cap club
Helium is a candidate
Qtum offers upside potential
Cautious investing and a portfolio approach in the burgeoning asset class
The top one hundred digital currencies hold the majority of the asset class's market cap. After all, and hold nearly 66% of the almost $2.208 trillion in value as of Apr. 14. With 9,231 tokens and rising, the lower-tier tokens have slim chances of success.
Value-seekers are looking for the next Bitcoin every day. It will be more than a challenge to identify the next token that can appreciate from six cents to over $65,000 in a little over a decade. A $100 investment in Bitcoin in 2010 is worth $100 million in 2021. A payoff like that will keep the level of buying robust over the coming months and years.
Meanwhile, as a Las Vegas resident, I watch as people put $100 bills in slot machines for a chance at a far smaller return. Bitcoin investors hit a jackpot that was far greater than any offered by gaming machines. Most of the digital currency tokens without a substantial market cap will fade into obscurity. The hundred-dollar bills fed into slot and video poker machines that are paper shredders for money offer far smaller payoffs than most of the crypto tokens floating around in cyberspace. Bitcoin's ascent is the best advertising for the asset class.
These days, two tokens I am watching are Helium (HNT) and Qtum (). Both have market caps above the $1 billion level, which is enough critical mass to improve survival odds.
Looking for diamonds in the rough in digital currencies
As of Apr. 14, the digital currency asset class had a roughly $2.208 trillion market cap. Out of 9,231 tokens, fewer than 100 had market caps above the $1 billion level. Bitcoin is the leader with an over $1.175 trillion market cap that dominates the asset class. Ethereum is the only other token that has an over $85 billion total value. As of mid-April, Ethereum's market cap stood at the $280 billion level. Only the top seventeen have values of over $10 billion. Market caps of over $5 billion only pertain to thirty-two tokens.
Looking for a token that will perform like Bitcoin which moved from six cents to over $65,000, is like buying a lotto ticket. For serious digital currency investors, capital appreciation depends on survival. As the market matures, the strongest are most likely to survive and flourish over the coming months and years. However, the higher they rise in parabolic moves, the greater the chances of a brutal correction. Gravity can be a powerful force in markets that overextend on the upside.
Stick with the billion-dollar market cap club
For traders looking to speculate in the cryptocurrency asset class, liquidity is the most significant factor. Critical mass when it comes to a robust market cap leads to tight bid-offer spreads that allow for easy execution on the buy and sell sides of the market.
While speculating on low priced tokens with small market caps with a long-term buy and hold strategy could lead to exponential returns, the odds of success are low. Traders looking to get in and out of positions should look at those tokens with market caps of over $1 billion. Ninety-six tokens qualify as of Apr. 14. Helium and Qtum both have a market value over $1 billion.
Helium is a candidate
Helium is the eighty-seventh leading cryptocurrency as of Apr. 14. Helium is a decentralized blockchain-powered network for the Internet of Things (IoT) devices. Nodes come in the form of Hotspots, a combination of a wireless gateway and a blockchain mining device. Users who operate nodes mine and earn rewards in Helium's native cryptocurrency, HNT. Helium's website outlines how the digital currency and blockchain network focuses on improving supply chain logistics in the construction and infrastructure sector. HNT has a maximum supply of 223 million tokens.
Helium was trading at around the $15.35 level on Apr. 14.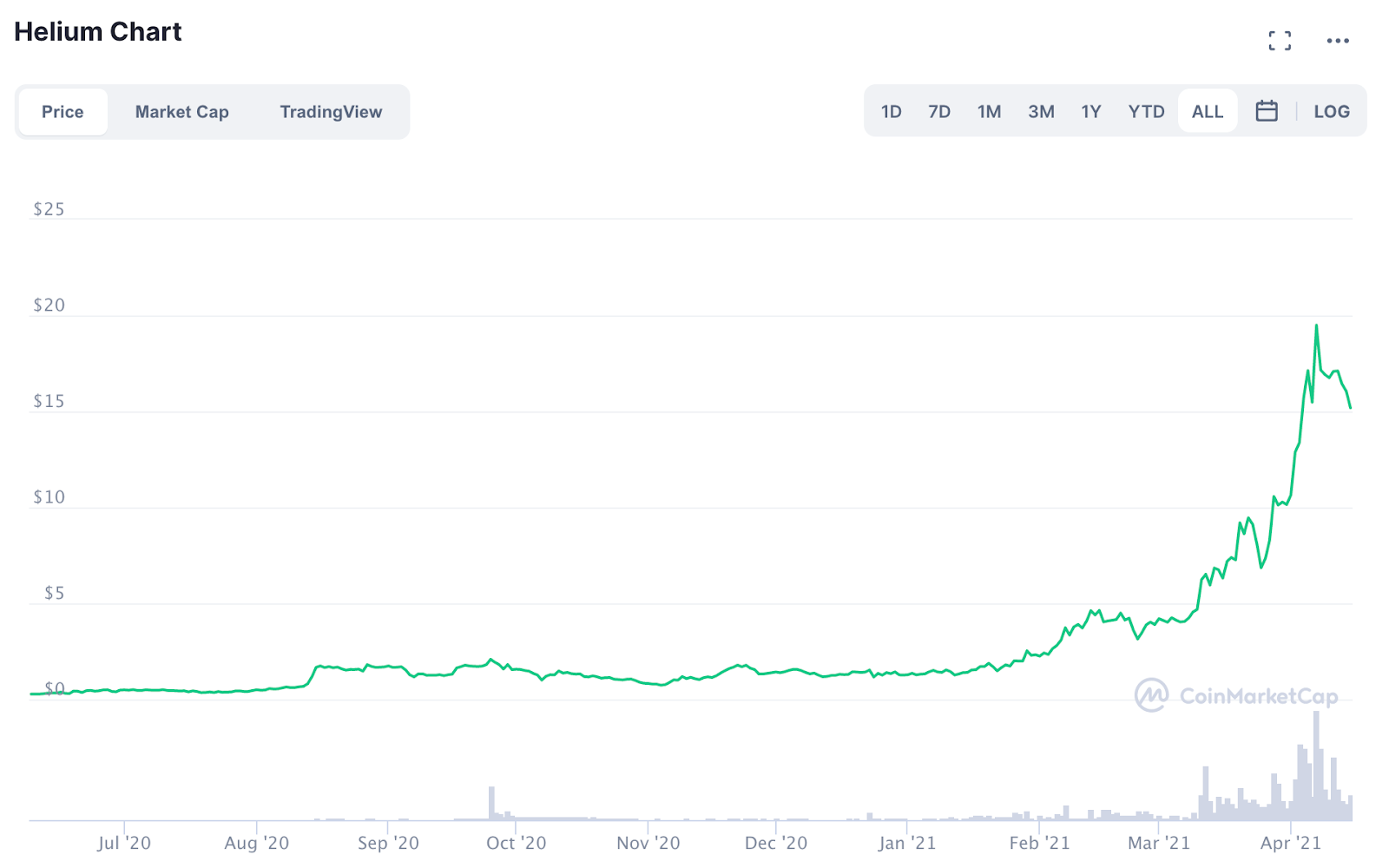 Source: CoinMarketCap
HEL has been as low as under 28 cents and as high as $19.50 since June 2020. The trend is always your best friend in markets, and it is higher in HNT, which had a market cap of $1.205 billion on Apr. 14.
Qtum offers upside potential
Qtum was the sixty-fifth leading digital currency as of Apr. 14. Qtum is an open source blockchain application platform that utilized the UTXO model. Qtum combines Ethereum's smart contract functionality with Bitcoin's security that creates a token suitable for adoption by large organizations. As its' website describes, Qtum's block size can be increased without the need for a hard fork. Qtum was trading at the $15.90 level on Apr. 14.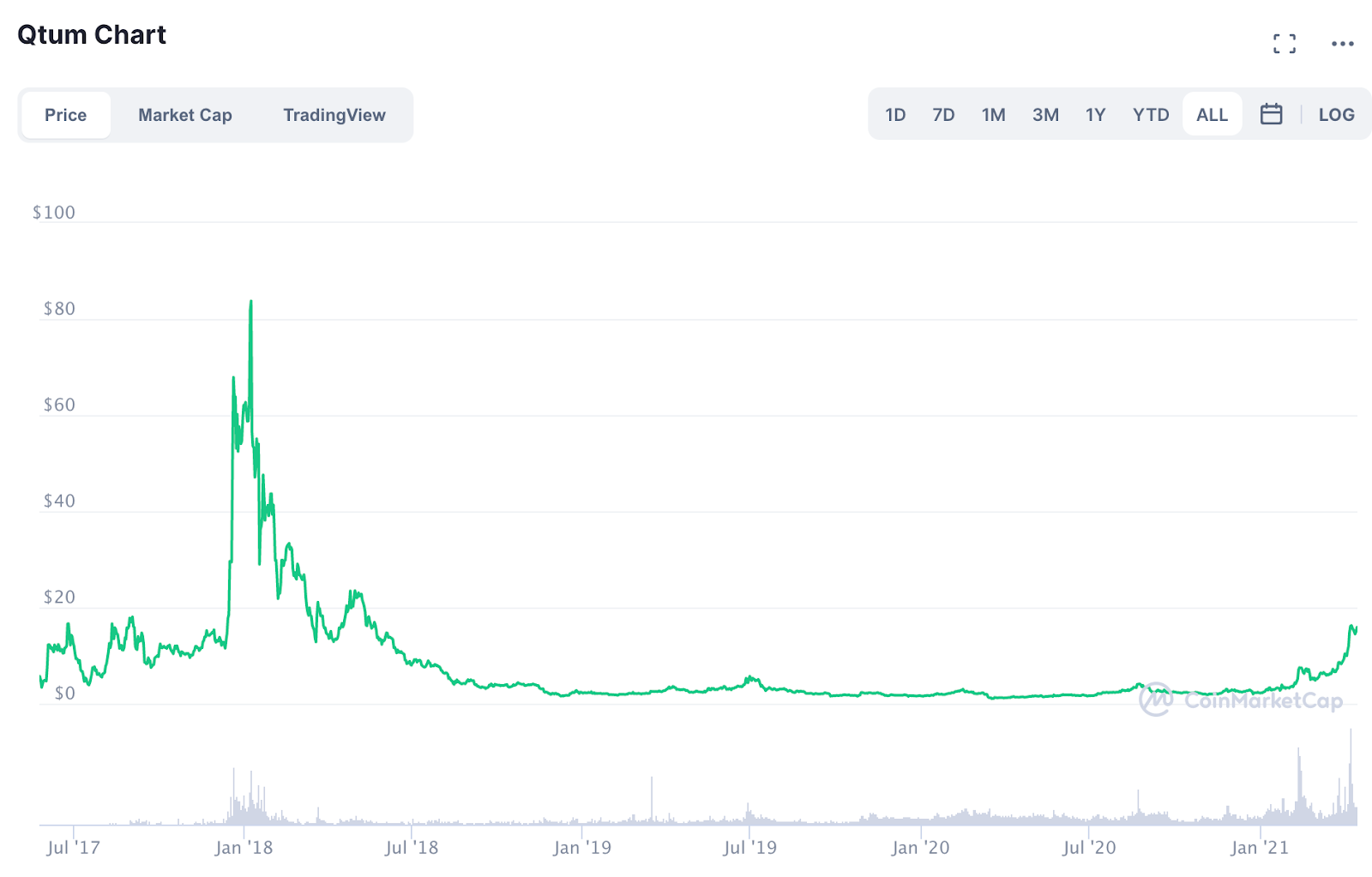 Source: CoinMarketCap
As the chart shows, Qtum has been around since 2017. It has traded in a range from below $1.04 to a high of $81.85 per token. The high came in early 2018. After trading below the $2.00 level in late 2020, Qtum has been trending higher. It had a market cap of $1.564 billion on Apr. 14.
Cautious investing and a portfolio approach in the burgeoning asset class
Trading and investing involve different risk approaches. When investing in any cryptocurrency, realize that the amount invested is entirely at risk. A significant number of the 9,231 tokens will become worthless. Therefore, only invest capital you are willing to lose.
Trading requires liquidity. Look for digital currencies with robust market caps that support buying and selling on tight bid-offer spreads. Liquidity will improve the odds of success for nimble traders with their fingers on the pulse of the burgeoning asset class. Helium and Qtum are two currencies that are candidates for both investment and trading, given their utility and market caps above the $1 billion level.
The Coinbase (NASDAQ:) listing on Apr. 14 was a big success. The shares traded to a high of $429.54, giving the cryptocurrency platform a $100 billion market cap. They closed at $328.28 on the first day of trading with an over $85 billion cap and were higher in Wednesday's after-market. COIN is the ultimate pick-and-shovel play on the asset class as the platform will profit on volume.