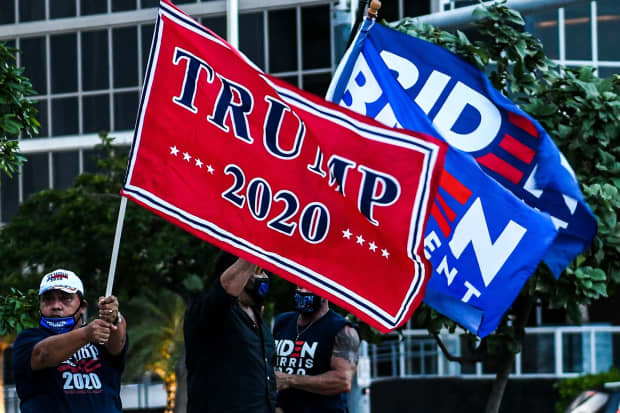 The biggest fear for market participants from the election is no result at all, at least according to one survey of market participants.
Nomura's Singapore-based currency team, for a second time, polled their clients on how they felt global markets would react. The more recent poll was conducted between Sept. 30 and Oct. 5, a period that included the first U.S. presidential debate as well as the hospitalization of President Donald Trump for COVID-19.
While hardly exhaustive, it gives a sense of institutional sentiment, at least of those that are conducting currency trades in the Asian timezone.
By far the worst scenario for the stock market, as measured by the S&P 500
SPX,
+1.74%,
would be no clear winner, according to this survey. The best scenario would be a re-election of Trump with a Republican Senate. Everything else would be a languid shrug.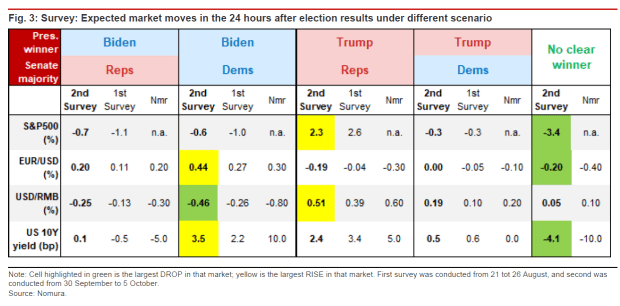 On the bond side, the possibility of increased fiscal stimulus from a Democratic sweep would lift the yield on the 10-year Treasury
TMUBMUSD10Y,
0.770%
the most. By contrast, yields would fall sharply without a clear winner, with investors rushing to the safety of bonds.
The possibility of a contested election has analysts looking at the election of 2000, as well as the less recent 1876 contest.
See: 2000 redux? Stock-market election fears have traders revisiting Bush-Gore battle