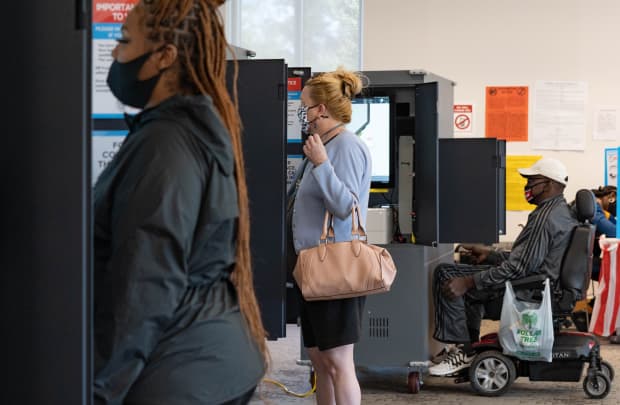 The U.S. presidential election is still close to call. Here's what we know about the remaining states that have yet to be called for either former Vice President Joe Biden or President Donald Trump, with vote tallies from the Associated Press:
Pennsylvania, with 20 electoral votes: With 64% reported, Trump has a 55.7%-to-43.1% lead. Most votes are expected to be counted by Friday.
Georgia, 16 electoral votes: With 94% reported, Trump has a lead of 50.5% to 48.3%. Results from the state were delayed by a pipe bursting at State Farm Arena, where counting was being conducted. Georgia officials hope to have a result on Wednesday.
Michigan, 16 electoral votes: With 90% reported, Trump has a 49.4%-to-49.1% lead. A Michigan official said she expected to have a "very clear picture" if not the final results by Wednesday night.
North Carolina, 15 electoral votes: With 94% counted, Trump has a 50.1%-to-48.7% lead. Ballots there are accepted until Nov. 12, as long as they were postmarked by Election Day.
Wisconsin, 10 electoral votes: With 95% reported, Biden has a 49.6%-to-48.9% lead. Results are expected Wednesday.
Nevada, 6 electoral votes: With 67% reported, Biden has a 49.2%-to -8.6% lead. Nevada is still counting mail-in ballots received on Election Day, those received over the next week and provisional ballots.
Alaska, 3 electoral votes: With 36% counted, Trump is up 62.9% to 33%.