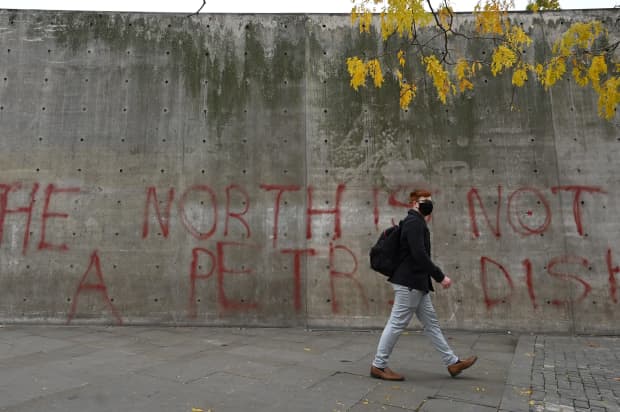 Leaders of Greater Manchester, Britain's third-largest urban area, are resisting the U.K. government's decision to put their region in the "very high alert" COVID-19 category, which would imply strict lockdowns and major restrictions to people's lives.
Andy Burnham, the Greater Manchester mayor, has led the rebellion by asking for compensation for the hundreds of businesses that would be affected by the so-called Tier 3 restrictions, which include a ban on meeting people outside one's household and a total closure of pubs, bars, and restaurants.
Michael Gove, the Cabinet office minister and a key ally of Prime Minister Boris Johnson, accused Burnham of putting lives at risk for the sake of "posturing," but the Times wrote on Monday that the government was now "ready to offer tens of millions of pounds" to quell the northern rebellion.
Several members of Parliament from Johnson's ruling Conservative Party have joined the rising opposition to stricter measures, even as the second spike of the virus in the U.K. gives no sign of abating.
Welsh first minister Mark Drakeford announced on Monday that a two-week, temporary lockdown would be put into place in the country from Friday, to give time to the health service to prepare for a difficult winter.
Read: Spanish court rules against Madrid's new COVID-19 restrictions
The outlook: The row between the central government and local elected officials is mirrored in other European countries such as France and Spain, where central governments, all keen to avoid blanket, national lockdown measures this time around, find it difficult to implement geographically-tailored measures against the will of regional politicians.
Governments throughout Europe have at times struggled to explain the rationale and criteria behind their moves, and what guided their decisions to impose restrictions in one region compared to another. They have only recently acknowledged that "science" was not the only factor behind their decisions, which are also guided by political and economic considerations. And most governments are increasingly facing demands to subject their policies to more parliamentary scrutiny.
Read: When making decisions about COVID-19, Dr. Fauci says: 'Stay away from the politics'