This article was written exclusively for Investing.com
Cryptos with market caps over $1.85 trillion not a crowd, rather, an elite club
Critical mass improves trading opportunities
Number of cryptos continues to soar despite the correction
Klaytn has an over $2.3 billion market cap
Tezos: not far below KLAY in top 0.40% elite
The cryptocurrency asset class has appealed to the emotion that is a powerful motivator of human beings—greed. Markets are highly susceptible to fear as well as greed, which can drive prices to lows and highs.
Stories about cryptocurrency millionaires and billionaires with the foresight to invest over the past years have sparked wild speculative activity in the burgeoning asset class. There are few things more powerful than a tale of turning a $10 investment in in 2010 at five cents per token into $6.0 million at $30,000 in 2021.
Since Bitcoin burst onto the investment scene, nearly 11,000 crypto tokens have come to market. While the overwhelming majority will wind up as dust collectors in computer wallets, and more than a few are scams, the potential for untold wealth has caused a speculative stampede into the asset class.
Investing in cryptos and trading the instruments are two very different disciplines. Throwing a few bucks at a new crypto with full knowledge that the investment will likely yield a total loss is a shot in the dark. For many, it's still worth the risk.
Trading is another story. Buying and selling cryptocurrencies for profit requires critical mass or liquidity. The tokens with substantial market caps tend to offer market participants the best opportunities to execute buy and sell orders on a tight bid-offer spread. (KLAY) and (XTZ) are cryptos with critical mass as their market caps are on either side of the $2 billion level, putting them in the elite section of the asset class.
Cryptos with market caps over $1.85 trillion not a crowd, rather, an elite club
According to CoinMarketCap, as of July 20, only 44 of 10,972 cryptocurrencies had market caps over the $1.85 billion level. With around 0.40% having the same or greater level of critical mass, the elite club accounts for over 96% of the asset class's entire market cap. The remaining 10,928 cryptocurrencies make up less than 4% of the burgeoning market's total value.
Investing and trading are far different exercises. The fantastic returns from the top cryptocurrencies have ignited a speculative frenzy, with market participants throwing money blindly at other digital currencies, in hopes of catching the next Bitcoin, , , or another crypto that has turned a few bucks into a fortune. However, the elite club is likely to remain elite as most tokens will wind up as dust collectors in computer wallets.
When it comes to investing, only spend money you are prepared to lose.
Critical mass improves trading opportunities
The elites of the cryptocurrency asset class offer investment and trading opportunities. Investors should, however, be prepared for substantial losses in any cryptocurrency. Risk is always a function of rewards in any market. Hyper price volatility, a hallmark of the crypto asset class, only increases the risk versus reward equation.
When it comes to trading, cryptocurrencies with higher market caps offer a better opportunity for traders looking to profit from price trends or other technical opportunities. However, the wide price variance means that trading is far from a low-risk venture.
The potential for price gaps and illiquid periods remains high even in Bitcoin and Ethereum, the cryptos with the highest market caps that reflect around 63.5% of the market's total value. The further away from the leaders a token ranks, the lower the liquidity and greater the odds of price gaps higher and lower.
Bid offer spreads may be tighter on the cryptos with higher market caps, but they will surely widen dramatically when the price begins to move. After all, Bitcoin and Ether tokens became less liquid during the parabolic moves earlier this year and when price carnage cut their values by more than half.
Critical mass may increase the chances of liquidity, but it does not guarantee execution on a narrow bid-offer spread when price variance expands.
Number of cryptos continues to soar despite the correction
While the bull market in the asset class came to at least a temporary end in April and May when Bitcoin, Ethereum, and many other tokens peaked, reversed, and plunged, the bull market in the number of tokens has yet to peak.
Each day, new cryptocurrencies come to market. At the end of the second quarter, there were 10,725 tokens in cyberspace. Less than one month later, at 10,972, the number has risen by 2.3%, even though prices are near the recent lows.
Two of the elite class of tokens are Klaytn and Tezos, with market caps currently hovering around the $2 billion level.
Klaytn: over $2.3 billion market cap
Klaytn (KLAY) is the native token on a blockchain built by Kakao Corp. (KS:), the company behind South Korea's popular messaging app "KakaoTalk," used by more than 90% of South Koreans. The company has had substantial success with its taxi-hailing and online banking apps.
KLAY's website describes the crypto's protocol as a service-centric platform that:
"Brings user-friendly blockchain experience to millions…Klaytn enables businesses and entrepreneurs today to capture value using blockchain technology."
At just above 93 cents per token, KLAY's market cap was at the $2.33 billion level on July 22.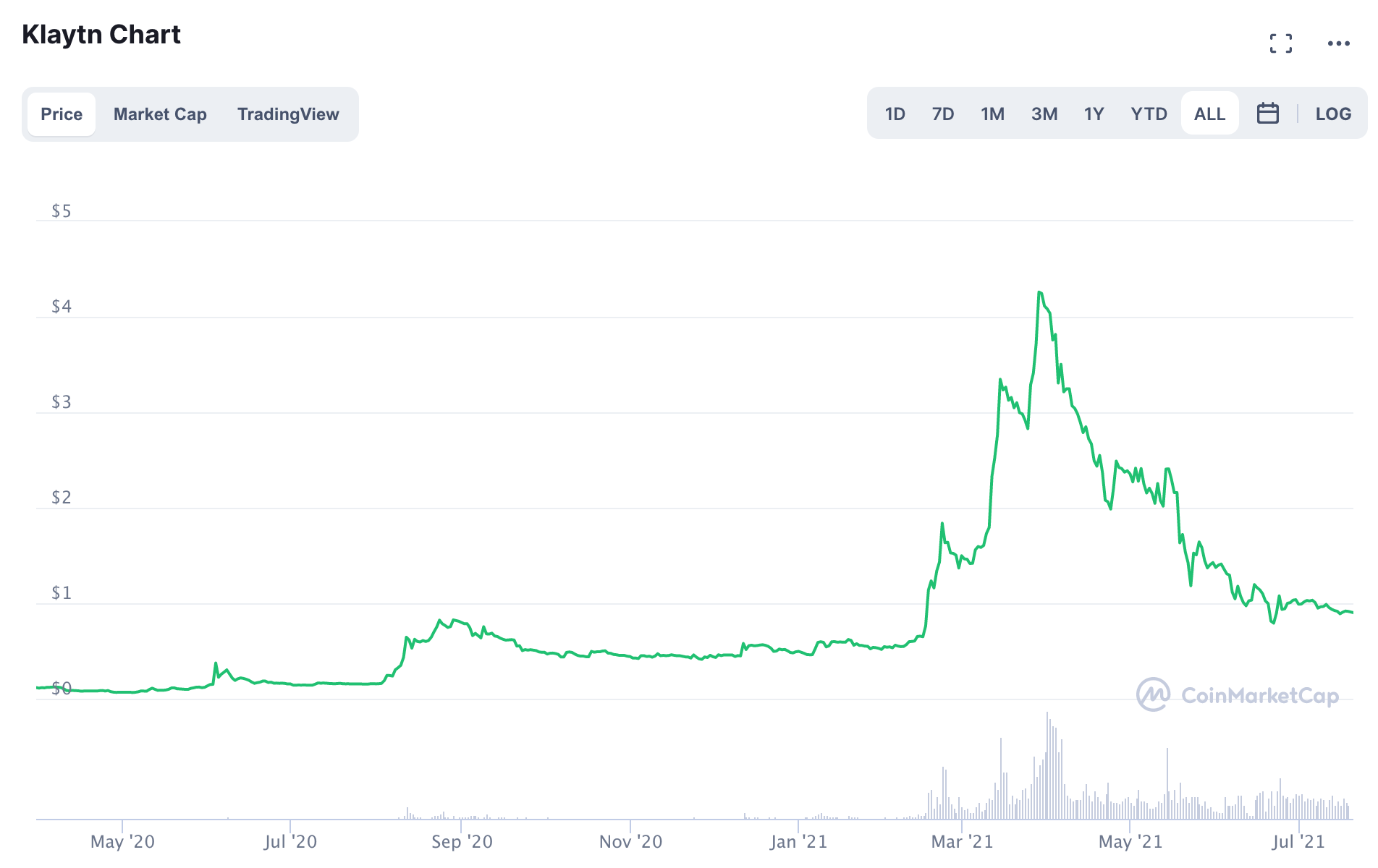 Source, all charts: CoinMarketCap
The chart shows that since March 2020, KLAY has traded as low as below 7.0 cents and as high as $4.26. The digital coin's high came in late March 2021.
KLAY is a South Korean cryptocurrency play. An over $2 billion market cap puts it near the top of the crypto heap as the 38th leading token at time of writing.
Tezos: not far below KLAY in the top 0.40% elite
Tezos (XTZ) is a decentralized, open-source energy efficient Proof-of-Stake blockchain network that executes peer-to-peer transactions and is a platform for deploying smart contracts. Tezos' website touts the protocol as:
"Evolutionary, revolutionary, and everything in-between."
XTZ is Tezos' native cryptocurrency and was trading at the $2.40 level on July 22 with a market cap of $2.00 billion.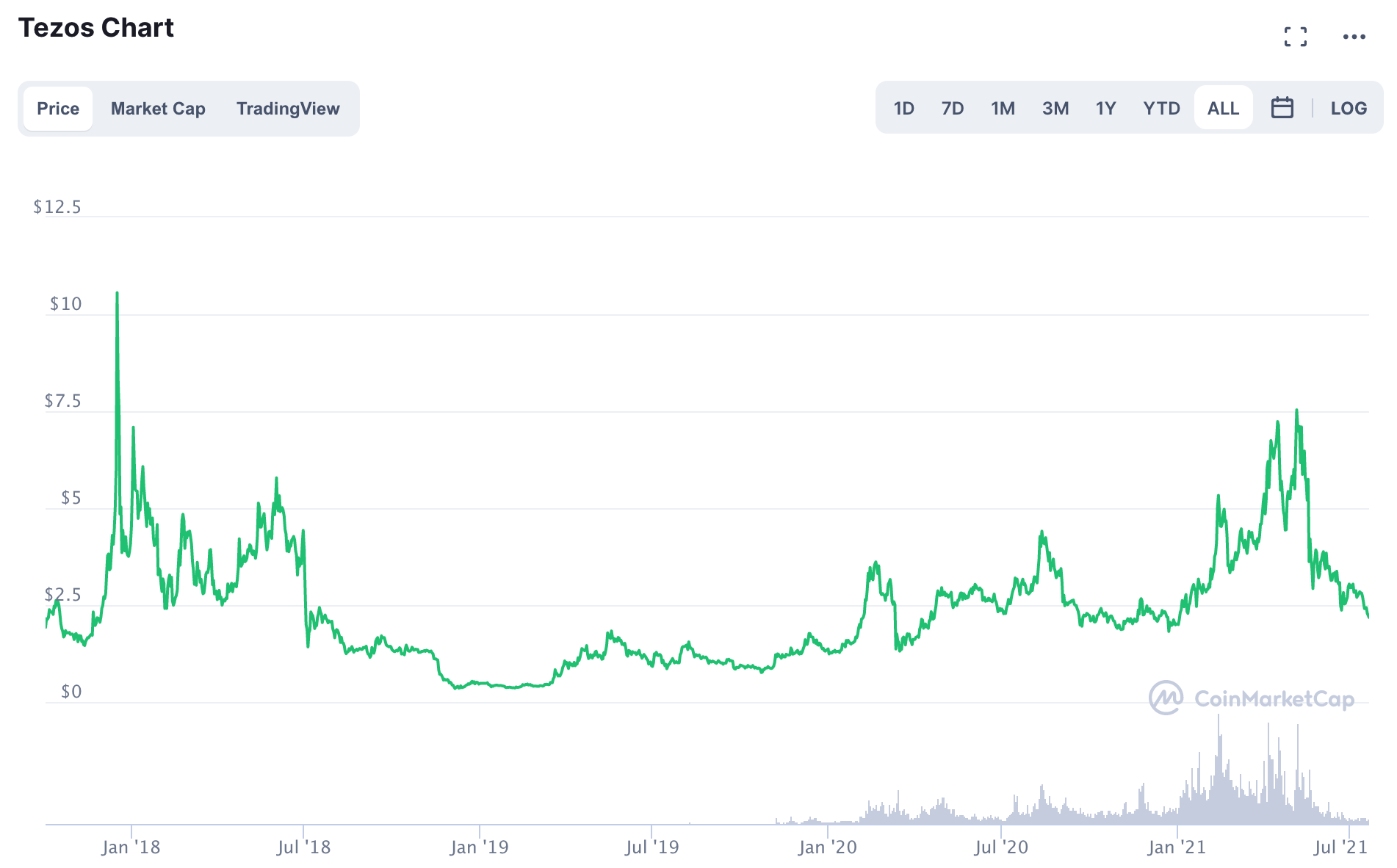 The chart illustrates a price range of below 35 cents to a high of $10.56 since October 2017. The high came in December 2017, with the low in early 2019.
XTZ reached a lower high at $7.54 on May 2021, but the price fell dramatically with Bitcoin, Ethereum, and many other tokens since May. XTZ was the 44th leading cryptocurrency on July 22.
KLAY and XTZ are top-tier cryptocurrencies with impressive protocols. Their market caps make them liquid instruments compared to many other members of this asset class.
However, they are highly volatile instruments that require a careful and disciplined risk-reward approach for investors and traders. Time will tell if the current selloff finds a bottom or if lower lows are on the horizon.