Is Elon Musk—the godfather of cryptocurrencies, or an evil genius chasing his own interests and holding the public on a doge leash?
Former SEC analyst Marc Powers believes that regulators should check Musk's crypto tweets.
In September 2018, Musk was already accused of fraud by the US Securities and Exchange Commission (SEC) for publishing false and misleading tweets.
Tesla (NASDAQ:) and Musk agreed to pay $20 million each for a pre-trial settlement. Those funds went to the treasury, but the shareholders did not get compensated for the alleged financial losses. Musk was also obliged to coordinate his tweets about his company.
In 2019, the U.S. Federal Trade Commission issued a list of normative requirements for influential individuals and celebrities: they had to publicly report their profits associated with the recommendations of products. Thus, Floyd Mayweather and DJ Khaled have been called to account for cryptocurrency PR, but Elon Musk has somehow escaped the regulators' sight.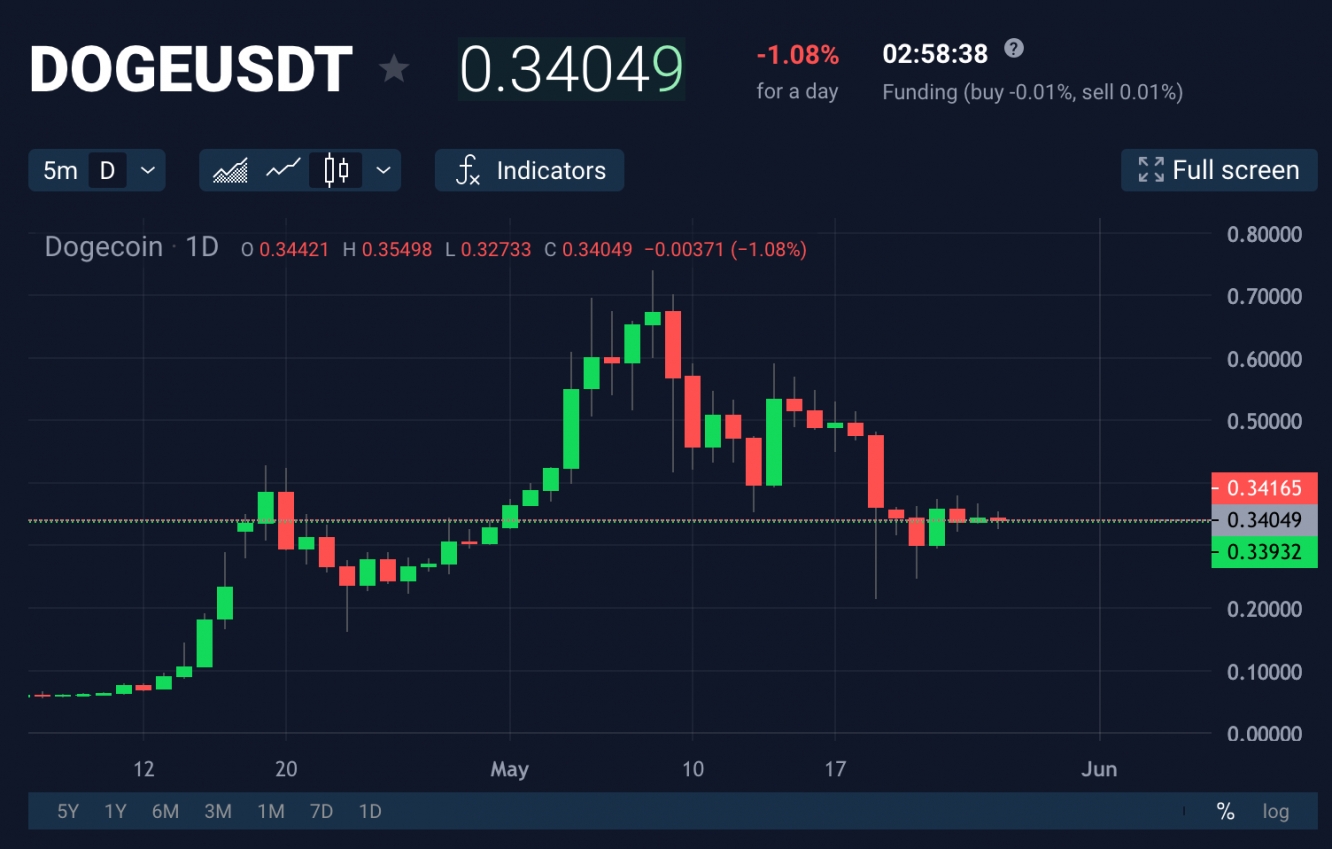 Source: cryptocurrency platform StormGain
In the recent years, Musk has been actively promoting and has even suggested making it the Mars cryptocurrency.
As a result of this PR campaign, the meme coin became a top 7 cryptocurrency by market cap (the 4th at its high), and now 29% of Americans know about Dogecoin, while only 21% know about , according to the polls of Harris Poll and CouponCabin.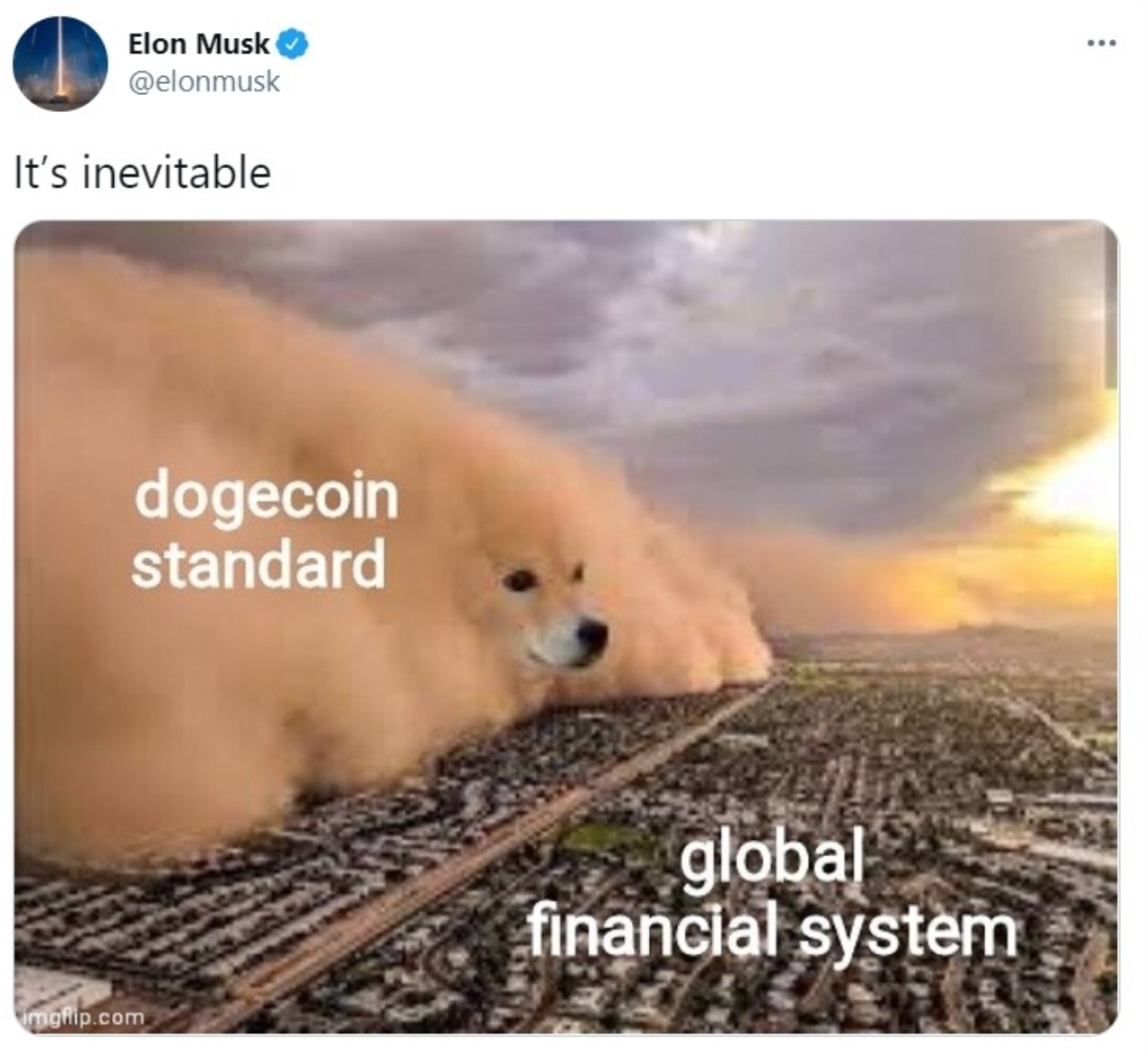 Source: twitter.com/elonmusk
Musk believes that it is enough to increase the block size of Dogecoin 10 times to make it the number 1 cryptocurrency. Vitalik Buterin responded to this, saying that it would be impossible to implement such a change without massive centralization of the coin, which will destroy the basic value of the blockchain network. Musk simply laughed it off: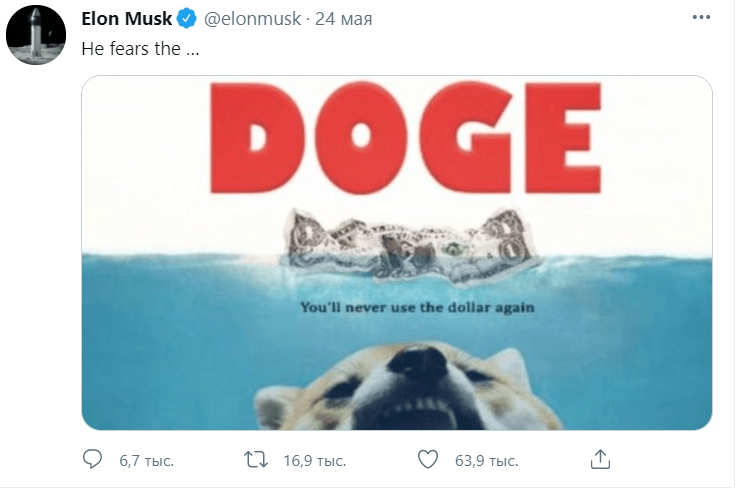 Source: twitter.com/elonmusk
The former SEC analyst, Marc Powers, believes that the regulators should more rigorously inspect Musk's posts as his actions can lead to multimillion losses by his subscribers. Besides, Musk's words can also hold personal interest.
When reached the $60,000 mark in March and became one of the most popular search queries, Tesla announced that it would sell its cars for the cryptocurrency.
However, chasing the hype, Musk did not take into account that the top officials of China—the biggest car market—did not favor cryptocurrencies.
Tesla instantly became an objectionable company, and Mode3 sales dropped by 30% in China in April (this was officially explained by a general slump on the electric vehicles market).
Musk had to reverse his stance on Bitcoin, acknowledging its negative environmental effect, and rejected to accept it as payment, bringing down the crypto market and setting crypto enthusiasts at odds with him.
But The New York Times twice wrote about the Bitcoin energy consumption problems in 2018, so there was nothing new about it. We will not go into the rumors of Musk's investments in Dogecoin, however we have to agree with Marc Powers: Musk has got a large fan audience that can act to its detriment under his influence.
Musk failed to boost Tesla's sales on the wave of Bitcoin's popularity, and he has quickly turned away from that idea. And those who bought Bitcoin at its highs with leverage, have found themselves down in the gutter.