EIP-1559 has a provisional launch date: a pull request for the blockchain's London hardfork has proposed Aug. 4 for mainnet activation.
Key Takeaways
's EIP-1559 update is likely to ship on Aug. 4.
EIP-1559 is one of Ethereum's most anticipated updates to date. It will introduce a gas fee burn on every transaction, making fees easier to predict and increasing ETH's scarcity.
It's due to ship as part of the blockchain's London hardfork.
Ethereum readies one of its most anticipated network updates so far.
EIP-1559 To Launch In August
The crucial Ethereum update, which forms part of the blockchain's London hardfork, has been proposed for mainnet activation on block 12965000, due to land between 13:00 UTC and 17:00 UTC on Aug. 4. Tim Beiko, a key coordinator for the various researchers working on EIP-1559, proposed the launch time in a pull request on Github yesterday.
Notably, the launch date is not set in stone just yet. Beiko took to Twitter to say that the date would depend on if anyone objected to the proposed block in the next 24 hours, but that it "should" land on Aug. 4.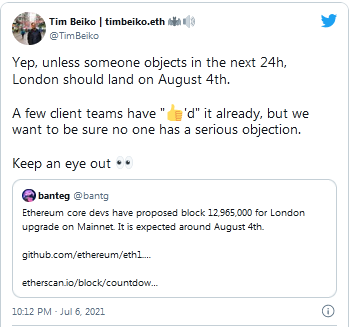 Tweet
EIP-1559 was initially expected to land around Jul. 14, though some members of the Ethereum community had suggested that it may be slightly delayed over the last few weeks. It's currently going through launches on Ethereum's various testnets.
EIP-1559 will introduce a gas fee burn on every transaction on Ethereum. It's expected to make it easier to determine the price of a transaction (users currently have to enter a bid and often end up overpaying on gas). The fee burn will also act as a buyback that reduces the supply of ETH, in turn adding to the asset's scarcity.
If the network sees enough activity, the burn rate could surpass issuance, making ETH a deflationary asset. A common misconception of EIP-1559 is that it could reduce gas fees on the network. While it should slightly alleviate the cost of using the network, Layer 2 solutions and the completion of Ethereum 2.0 are expected to have more of an impact on gas fees.
The London hardfork includes four other improvement proposals: EIP-3198, EIP-3529, EIP-3541, and EIP-3554.
Once London ships, Ethereum's next major milestone will be "the merge" phase of Ethereum 2.0, which will see the Beacon Chain docked to Ethereum mainnet as Proof-of-Stake goes live. That's due to land later this year or early next year, with sharding to follow sometime after.