There has never been a stock-market recovery like this one.
Analysts at Standard & Poor's charted the previous 10 times since 1957 that the S&P 500 dropped 25% or more from an all-time high. The chart shows this is the best reaction to a drawdown since World War II.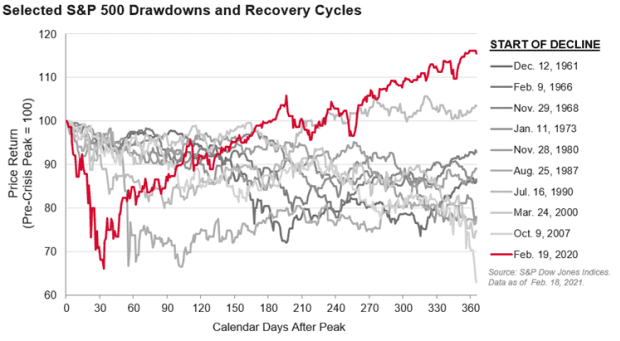 It was exactly one year ago, on Feb. 19, 2020, that the S&P 500
SPX,
+0.05%
reached an all-time high, and the VIX stock-market volatility index
VIX,
-3.78%
was at a low 14. That quickly turned in the face of the COVID-19 pandemic that spread outside China to around the world.
"Since then, business attire the world over has collected dust, while on the plus side we've all got better at telecommuting. Now, 366 days later, there are strong grounds to hope that we're closer to the end than to the beginning," said Tim Edwards, managing director of the index investment strategy for S&P Dow Jones Indices.
The S&P 500 has surged 75% from its March lows. The technology-heavy Nasdaq Composite
COMP,
+0.20%
has more than doubled.