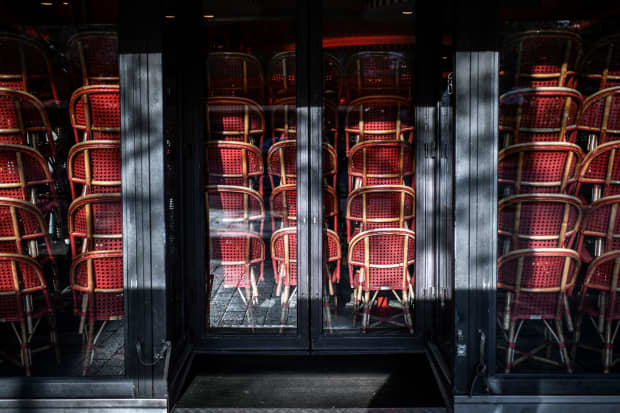 As European governments are trying to ease the second-wave lockdowns to help businesses during the Christmas season, they also come to realize that the trade-off might be that COVID-19 restrictions will then have to last longer than planned.
Germany, France, Ireland and others are beginning to see the result of a few weeks of lockdowns, as the number of new infections has plateaued or come down. In a few countries, the number of hospitalizations is also declining.
The French government on Thursday announced that the current restrictions, based on the closure of all bars and restaurants as well as public spaces, won't disappear altogether on Dec. 1 as originally envisioned. 
If the number of hospitalizations decreases by then, however, some measures could be lifted as soon as next month. The slight improvement in the number of infections for now remains "fragile," said French Prime Minister Jean Castex.
U.K. transport secretary Grant Shapps said on Friday that the government was "actively working" on reducing the current 14-day quarantine forced on foreign travelers — save for a limited list of countries of origin.
In Ireland, which implemented a second lockdown earlier than in the rest of Europe, new infections are back down to their May level. The restrictions are to be lifted on Dec. 1, but chief medical officer Dr. Tony Holohan has advised the Irish living abroad not to travel home for Christmas.
Read: What a second COVID wave will do to liquor sales in the festive period
The outlook: European governments are eager to loosen the restrictions in the run-up to the Christmas season, during which retailers make 20% of their annual sales. But they are struggling to avoid the consequences on their health-care systems, since a promising vaccine and improvements in test-and-trace methods will have little impact before next year.
This means that governments are in a race against time. And they have to keep reminding the public — whose acceptance of and compliance with lockdown measures seems to have declined since the first wave throughout Europe — that new vaccine hopes don't change anything to the short-term problem. If anything, positive news on the possible end of the pandemic next year might even encourage more breaches of the lockdown rules — which could in turn lead to a third wave of the pandemic.
Read: Europe may have a merrier Christmas than the U.S., according to JPMorgan. Here's why